Perayaan sedunia merayakan rilisan single, mini album atau album dalam wujud fisik yang bernama Record Store Day (RSD) kembali digelar di Lantai 7 Kuningan City, Jakarta Selatan, pada 21-22 April 2017.
Record Store Day adalah surga bagi mereka penikmat rilisan fisik dan kolektor musik. Setiap tahun dari berbagai belahan dunia para musisi, label dan toko independen merayakan pesta rilisan fisik ini.
Dipilihnya Kuningan City sebagai tempat pelaksanaan Record Store Day Indonesia kali ini selain lokasinya yang strategis, pihak penyelenggara ingin memberikan kenyamanan lebih.
Selama dua hari, para pengunjung akan dihibur dengan penampilan beberapa band seperti Giant Step, The Brandals, Petaka, Fable, The Trees And The Wild, Dialog Dini Hari, Monkey To Millionaire, Barefood, Skalie, Sentimental Moods, Indische Party, Polyester Embassy, Piston, Ramayana Soul dan masih banyak band keren lainnya.
Selain performance band, juga ada workshop, lelang dan aktifitas interaktif lainnya.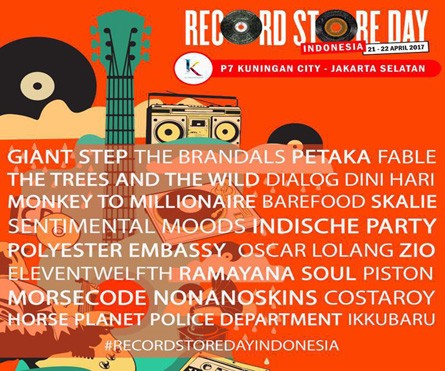 Record Store Day tercipta pada 2007 di sebuah pertemuan pemilik toko rekaman independen sebagai cara untuk merayakan dan menyebarkan budaya rilisan fisik di ratusan toko musik yang dimiliki secara independen di Amerika dan ribuan toko sejenis di berbagai dunia.
Perayaan Record Store Day pertama kali berlangsung pada 19 April 2008.
Selamat 'Jajan Rock', berbelanja dan merayakan rilisan fisik pada tanggal 21-22 April 2017.